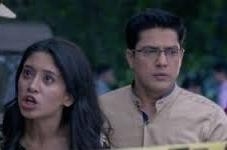 Yeh Rishta Kya Kehlata Hai: Naitik (Vishal Singh) fumes in anger Akshara died due to Kartik's silly mistake
In the upcoming episode, finally Naitik and Naira gets the dead body of Akshara and they come to know that Akshara is dead.
They gets completely shattered and they are not able to believe whether it is true or not.
Then they starts crying and shouts Akshara, they recalls all the moments spent with Akshara.
Everyone shattered seeing Akshara's dead body
Then they take the body home and everyone gets shattered seeing this.
They are not able to console themselves and they keep crying.
Naitik gets angry and decides to break the marriage alliance of Kartik and Naira because Kartik killed his wife.
Naitik feels that if Kartik did not drive his car in drunken state then Akshara would have been alive.
Stay tuned for the upcoming twist.