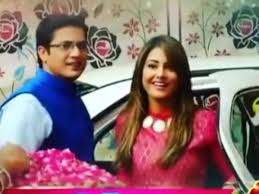 Yeh Rishta Kya Kehlata Hai: Akshara (Hina Khan) sacrifices life saving Naira's love Kartik (Mohsin Khan)
The upcoming episode of Yeh Rishta Kya Kehlata Hai will bring major twist in Kartik and Naira's life.
Akshara is returning home from temple, while Kartik mistakenly gets drunk when his friends spikes his drink.
Kartik calls Naira and says that he wants to meet her, Naira recognizes that Kartik is drunk and stops him from coming.
Kartik looses all senses in his drunk state and decides to meet Naira and drives his car.
Akshara-Kartik's major accident
Akshara was also on road driving her car, when she sees Kartik driving harshly and tries to stop him.
Akshara could see that Kartik will met an accident and comes in between to save him, as he is Naira's love.
Akshara gets seriously injured and thus will sacrifice her life saving Kartik from getting hurt.
Stay tuned for more exciting updates of the upcoming episodes.