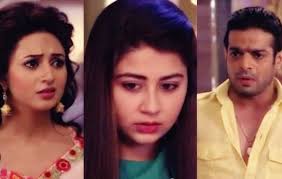 Yeh Hai Mohabbatein: Ruhi (Aditi Bhatia) supports Ishita (Divyanka Tripathi) in finding Raman in Australia
The upcoming episode of Yeh Hai Mohabbatein will show high voltage drama where Ishita was talking to Vidhyut.
Ruhi listens to Ishita's conversation and doubts having affair with someone.
Ruhi confronts her Ishita Maa that is there someone else in her life as it's been one years since Raman had gone away.
Ishita gets angry at Ruhi and asks her not to interfere in her life, Ruhi is upset seeing Ishita like that.
Ishita can't see her daughter Ruhi like this and reveals that she is taking Vidhyut's help to find Raman.
Ruhi supports Ishita
Ruhi apologize to Ishita for misunderstanding her and joins hand with Ishita on this matter.
Ruhi and Ishita are now together finding Raman in Australia to get him back.
Stay tuned for more exciting updates of the upcoming episodes.