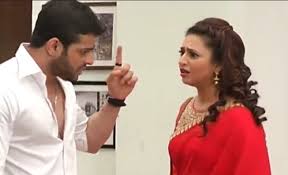 Yeh Hai Mohabbatein: Raman (Karan Patel) and Bhalla Boys gets drunken, Ishita (Divyanka Tripathi) and ladies takes their class
The upcoming episode of Yeh Hai Mohabbatein will show that Raman plans to party with Vidhyut.
Vidhyut also happily agrees for it, whole Bhalla Boys joins them and parties hard with alcohol and boys night out.
Raman gets worried realizing that they are over drunk and Ishita and other ladies will not leave them easily.
Raman, Romi and Aditya are scared of their wife's, enters the house secretly in the middle of the night.
Raman scared of Ishita's scolding
While Ishita and other ladies catches them and finds them in drunken state, Ishita takes away Raman to room.
Ishita takes Raman's class for getting drunk like this, Mihika scolds Romi but both takes each other's name to escape.
Stay tuned for more exciting updates of the upcoming episodes.