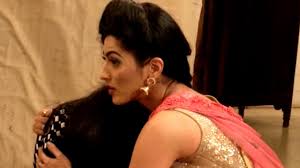 Thapki Pyar Ki: Shraddha attempts to harm Dhruv, Aditi (Sheena Bajaj) warns Shraddha (Monica Khanna)
The upcoming episode of Thapki Pyar Ki will show that Vasundhara organizes Aditi's muhdikhayi ceremony.
Thapki is happy for her sister Aditi and her happiness, Thapki gives earrings as gift to Aditi.
While Shraddha is irked with this and plans to spoil muhdikhayi ceremony but fails in her attempt.
Shraddha plans a bomb in one of the gifts and when Dhruv opens that gift he gets hurt.
Aditi and Shraddha's face off
Aditi knows that Shraddha must have done this and fumes in anger, Aditi confronts Shraddha.
Aditi who always remained silent and scared of Shraddha now fights back against Shraddha for Dhruv.
Stay tuned for more exciting updates of the upcoming episodes.