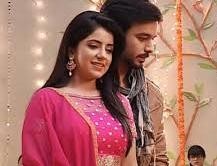 Thapki Pyaar Ki: Sankar furious as Bihaan refuses for marrying her for Vani aka Thapki (Jigyasa Singh)
In the upcoming episode, Sankar has become psycho lover in Bihaan's love.
Sankar just wants to get Bihaan at any cost, she has turned mad in his love.
When Bihaan refuses to marry her for Vani then she gets very angry seeing this.
Sankar puts knife at Vani's neck
Vani convinces Bihaan to marry Sankar but he refuses as he loves Thapki and he cannot marry anyone else.
Bihaan still thinks that Vani is Thapki so he refuse to marry Sankar.
Sankar gets angry seeing this and he puts knife at Vani's neck and says that if Bihaan will not marry her then she will kill her.
Everyone gets shocked and now lets see what Bihaan will do.
Stay tuned for the upcoming twist.