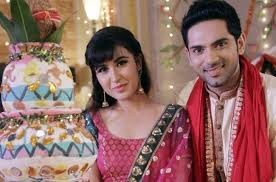 Thapki Pyaar Ki: Shraddha jealous seeing Dhruv-Aditi's kitchen romance
In the upcoming episode, Shraddha fails to stop Aditi and Dhruv's marriage.
Then she also fails to spoil their first night, Shraddha fumes in anger as she is not able to separate Aditi and Dhruv.
Later Aditi wakes up in the morning and Dhruv gets mesmerized seeing her.
Aditi takes the blessings from her elders and Vasundhara asks her to begin her first rasoi ritual.
Dhruv gets mesmerized seeing Aditi
Aditi goes on the kitchen to complete her ritual and Dhruv goes there in the kitchen as well.
Dhruv try to get romantic with her and Shraddha gets jealous seeing all this.
It will be interesting to see that what will Shraddha do now.
Stay tuned for the upcoming twist.