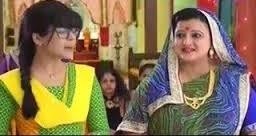 Thapki Pyaar Ki: Koshi makes kidnapping plan against Bihaan for finding Vani being Thapki(Jigyasa Singh) truth
In the upcoming episode, the show to witness high voltage drama as Koshi suspects that maybe Vani is Thapki.
So then she decides that she will have to find the truth and she will have to find out that Vani is Thapki or not.
So she makes Bihaan kidnap thinking that this kidnapping drama will bring out Vani's truth before her.
Dhruv saves Bihaan from kidnappers
Thapki aka Vani gets restless when she comes to know about Bihaan's kidnapping and sends Dhruv to save him.
It will be interesting to see that will Thapki get exposed before Koshi as she has saved Bihaan from kidnapping.
Stay tuned for the upcoming twist.