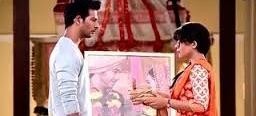 Thapki Pyaar Ki: Destiny saves Bihaan (Manish Goplani) from Kabir's killer plan
In the upcoming episode, all the members of Pandey Niwas goes for picnic.
They are playing games and enjoying themselves alot.
First they play parcing the parcel and then they play badminton.
While they are playing then Bihaan thinks to makes plan for exposing Vani.
Bihaan asks Vani to kiss Kabir if she is going to marry Kabir.
Bihaan fails to expose Vani
Vani agrees to this and she goes and kisses Kabir, Bihaan gets shocked as well as irked.
Bihaan's plan fails to expose Vani, he gets upset.
Then Kabir try to kill Bihaan, he points gun at Bihaan.
Kabir was about to shoot just then Bihaan goes from there and he gets saved from getting shot.
Stay tuned for the upcoming twist.