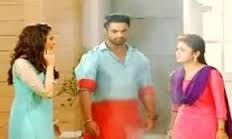 Saath Nibhana Saathiya: Radhika kidnaps Kokila (Rupal Patel) blackmailing Gopi (Devoleena Bhattacharjee)
The upcoming episode of Saath Nibhana Saathiya will show high voltage drama where Radhika shows her true colors.
Gopi was attempting to expose Radhika's truth before family but Radhika always wins over her.
Radhika now crosses all limits of cheapness and kidnaps Kokila to threaten Gopi, Radhika knows Gopi will do anything for Kokila.
Radhika thus uses Gopi as puppet and asks Gopi to turm theif in her own house and steal away Kanha ji's idol.
Gopi turns theif for Radhika
Gopi is shocked hearing this but is left with no other option but to go with Radhika's will.
Gopi prays to kahnaji for help and is ready to do anything to safeguard Kokila from Radhika.
Stay tuned for more exciting updates of the upcoming episodes.