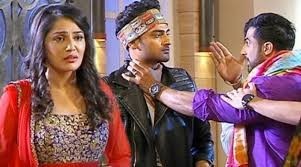 Saath Nibhana Saathiya: Mangesh disguises as Radhika and sits beside Jaggi (Mohammad Nazim) in mehendi ceremony
In the upcoming episode, Radhika and Jaggi's mehendi ceremony has started.
But Radhika hides her face behind dupatta and does not shows her face.
Sona takes her hand to apply mehendi and feels that hands are manly.
It is actually Mangesh disguised as Radhika and Radhika has gone to complete some secret work.
Everyone gets shocked seeing Mangesh instead of Radhika
Many a times people asks Radhika to remove dupatta but Radhika's mother stop them.
Mangesh waits for Radhika to come soon and he is tensed.
Later Sona removes the dupatta from her face and mangesh gets exposed.
Everyone gets shocked as well as angry.
Stay tuned for the upcoming twist.