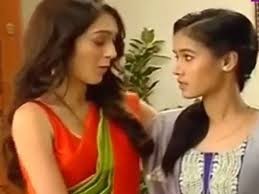 Saath Nibhana Saathiya: Chanda turns Rani making Vidya-Meera (Tanya Sharma) her servant
In the upcoming episode, the show to witness high voltage drama as Meera is taking Chanda's care nicely.
Chanda has becomes greedy seeing money and try to steal money.
But she gets caught by Vidya and Meera red handed.
Vidya and Meera gets really angry and scolds her for stealing.
Meera begs infront of Chanda for her baby's life
Meera then decides to call police and Chanda gets scared so then she shows her evil side to them.
Chanda blackmails Meera and says that if she will call police then she will kill her baby.
So Meera and Vidya gets shocked as well as scared.
Chanda makes Meera touch her feet and beg infront of her and Meera does everything as she does not wants Chanda to harm her baby.
Stay tuned for the upocming twist.