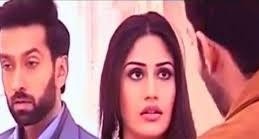 In the upcoming episode, Daksh decides to propose Anika but Shivaye does not wants him to do so.
Shivaye try to stop him but fails to do so and Daksh goes to Anika's house.
Daksh then proposes Anika for getting married with him and she gets shocked.
But then Anika refuses his marriage proposal and he goes from there.
Daksh tells Shivaye about all this and he gets happy as he does not wanted Anika to accept his proposal.
Shivaye comes for Anika's rescue
Later when Anika reaches home then she is alone and Daksh try to scare her.
Anika gets really scared and try calling Shivaye but fails to do so.
Later Shivaye will come for her rescue and she will get reliefed.
Stay tuned for the upcoming twist.