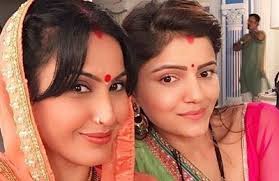 Shakti Astitva Ke Ehsaas Ki: Preeto (Kamya Punjabi) bursts out at Soumya (Rubina Dilaik) orders to give heir
The upcoming episode of Shakti Astitva Ke Ehsaas Ki will show major drama post Saumya's entry in Harman's house.
Harman goes against Mahi and choose Soumya over her, Preeto is hurt with it.
Harman has even gone against his father Harak Singh for Soumya, Preeto is shocked seeing Harman's obsession for Soumya.
Harman is actually just trying to protect Soumya from evil works as he knows that Soumya is innocent.
Harman supports Soumya against Preeto
Harman don't want Soumya to get into any more trouble, but Preeto is not ready to bear all this.
Preeto brings a doll and cuts it takes out another doll from it, taunting Soumya about the heir.
Preeto asks Soumya if she can give heir to her family, Soumya is scared seeing Preeto's anger while Harman supports her.
Stay tuned for more exciting updates of the upcoming episodes.