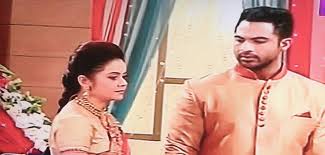 Saath Nibhana Saathiya: Gopi (Devoleena Bhattacharjee) proves herself, exposes Radhika saving Jaggi (Mohammad Nazim)
The upcoming episode of Saath Nibhana Saathiya will show that Gopi is worried for Jaggi as he is getting married to Radhika.
Gopi knows Radhika's truth and can't let Radhika spoil Jaggi's life like this.
Radhika is a con girl and escapes taking away money, jewelry and other costly things from marriage venue.
Radhika and Mangesh were planning this in Modi house also, Mangesh alerts Radhika that her passport is ready.
Gopi exposes Radhika's truth
Radhika thus tries to escape at mid night taking away all things with her, but Gopi is no less.
Gopi catches Radhika red handed while escaping from Modi bhavan, Gopi calls police to get Radhika arrested.
Gopi gets Radhika arrested and saves Jaggi from getting into Radhika's trap.
Stay tuned for more exciting updates of the upcoming episodes.