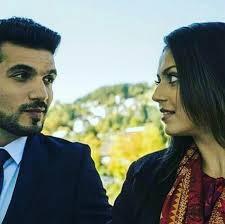 Pardes Mein Hai Mera Dil: Raghav (Arjun Bijlani) and Naina's (Drashti Dhami) destiny brings them closer
Star Plus new show Pardes Mein Hai Mera Dil started last night, seems to have a good beginning.
Naina's character makes everyone emotional from the very starting, stating her life troubles and broken love stories.
Naina narrates her story to a stranger about how love never entered her life, how her responsibility's takes toll over love.
Naina is noe going to foreign to her love of life, yet not clear to whom either Raghav or Amit.
Naina-Raghav's love story
Naina's story has strength to keep audiences glued to their seats and soon the other part of the story will begin.
Raghav and Naina's love story is yet to begin but seems to begin with a wrong phone connection.
Stay tuned for more exciting updates of the upcoming episodes.