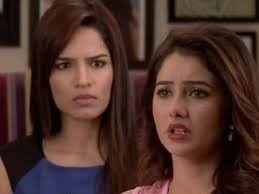 Kumkum Bhagya: Pragya successfully proves herself innocent before Abhi spoiling Abhi-Tanu's video plan
In the upcoming episode, everyone gathers for Chachi's childrens birthday party.
Everyone comes in the party and enjoys the party.
Aliya and Tanu has made evil plan for defaming Pragya's image before Abhi in the party.
They are really excited to execute their plan.
Finally they play a video in the party in order to defame Pragya's image.
Abhi happy as Pragya is not pregnant
They get very happy but when the video starts then they gets tensed.
The video proves Pragya innocent and proves that she is not pregnant.
Aliya and Tanu gets angry as they dont understand that how all this happened.
Pragya changed the video and proves herself innocent.
Abhi gets happy after knowing that Pragya is not pregnant.
Stay tuned for the upcoming twist.