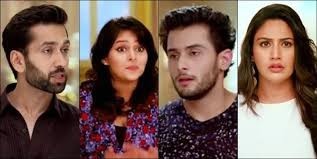 Ishqbaaz: Soumya finds that Romi has kidnapped Rudra (Leenesh Mattoo)
In the upcoming episode, Soumya gets worried for Rudra as she feels that maybe he is in some problem.
So then he asks Om to find out whether he is fine or not, he calls Rudra.
Rudra's coach talk to him and he says that Rudra is fine.
But Rudra has been kidnapped by Romi and she is torturing him because she wants to make him accept that she is his wife.
Romi tortures Rudra post kidnapping him
Soumya later feels that there is something wrong so then she goes and try to find out.
Soum
ya gets successful in finding that Romi has kidnapped Rudra, she gets shocked.
Soumya will now take Om's help for saving Rudra from Romi's clutches.
Stay tuned for the upcoming twist.