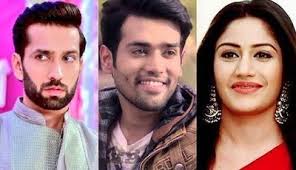 Ishqbaaz: Daksh (Karan Khanna) feels soft corner for Anika makes Shivaay (Nakuul Mehta) jealous
The upcoming episode of Ishqbaaz will show a new entry of Karan Khanna.
Karan Khanna will be seen playing the character of Daksh that is Shivaay's childhood friend.
Daksh is returning from foreign and Shivaay asks Anika to pick up Daksh from airport.
Anika goee to receive Daksh and meets him at the airport, Daksh is impressed by Anika's talkative nature.
Daksh-Anika's first meeting
Daksh enjoys each and every moment with Anika and praises her sense of humour.
Anika also compliments Daksh that he is quiet different from his friend Shivaay Singh Oberoi.
Daksh also feels in love with Anika at the first sight, Shivaay will get irked knowing about it.
Stay tuned for more exciting updates of the upcoming episodes.