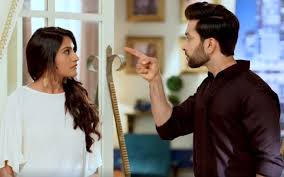 Ishqbaaz: Shivaay (Nakuul Mehta) and Anika's (Surbhi Chandna) bitter marriage relationship
The upcoming episode of Ishqbaaz is up for major drama, suspense and twist where Tia betrays Shivaay.
Tia elopes on the day of marriage as Robin is her husband and he don't want Tia to marry Shivaay.
Shivaay is shocked and more focused to save his family respect, Shivaay asks one of the business competitors to make her daughter marry him.
Anika goes against Shivaay's this decision, says that he can't buy love and marriage using his money.
Shivaay forces Anika for marriage
Shivaay bursts out at Anika and accuses her for sleeping with Daksh for money.
Anika slaps Shivaay for talking like this about her, Shivaay forces Anika to marry him if she wants her loan to get approved.
Shivaay threatens Anika to make her and Sahil's life hell if she refuses to marry him and forces her.
Stay tuned for more exciting updates of the upcoming episodes.