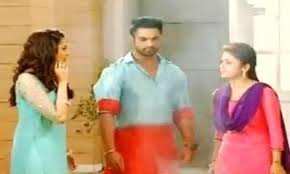 The upcoming episode of Saath Nibhana Saathiya will show some major drama where Jaggi and Gopi's marriage day arrives.
Gopi is scared as she knows Radhika's true face and ger intentions to con Jaggi and Modi family.
Radhika's boyfriend Mangesh has also entered the function in girls attire to execute the master plan befooling Modi family.
Gopi exposes all truth and reveals Mangesh's real identity before all, Radhika and Mangesh runs away leaving all.
Jaggi asks Gopi to marry him
Jaggi is upset and says that his marriage broke up, asks Gopi will she marry him im the same mandap.
Gopi agrees to do it for her family snd Modi family's respect, Jaggi snd Gopi decides to marry each other.
Stay tuned for more exciting updates of the upcoming episodes.