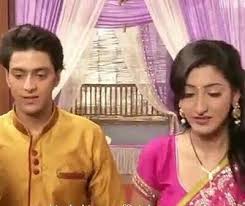 Ek Rishta Saajhedari Ka: Aryan (Kinshuk Vaidya) goes against Viren over Diwakar's heart attack, Sanchi (Shivya Pathania) tensed
The upcoming episode of Ek Rishta Saajhedari Ka will show high voltage drama where Diwakar accuses Viren for troubling them over debt.
Viren is shocked hearing such accusations from Diwakar, tries to calm him down but of no use as Diwakar is much upset.
Diwajar decides to give away haveli if he will not be able to return debts in one month.
Viren leaves from Sethiya house post this, everybody is tensed over this issue and conflict amid two family's.
Aryan and Sanchi's new trouble
Diwakar gets heart attack and had been rushed to hospital, Aryan and Sanchi also returns back for Diwakar.
Aryan gets angry knowing about Viren and Diwakar's conflict, Aryan blames Viren fir everything.
Sanchi is upset hearing Aryan's accusations over her father Viren, while Viren consoles Sanchi.
Stay tuned for more exciting updates of the upcoming episodes.