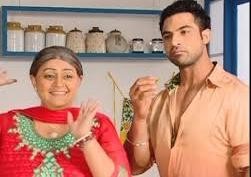 Saath Nibhana Saathiya: Urmila makes master plan for stopping Gopi from fixing Jaggi's marriage
In the upcoming episode, the show to witness high voltage drama as Gopi does arrti with all the members of the Modi family.
Then Gopi gives prasad to everyone, Jaggi gets mesmerised seeing Gopi as she looks very beautiful.
Later Gopi has called girl's family for talking about Jaggi's marriage.
Gopi wants Jaggi to get married with some girl
But Jaggi does not wants to get married with anyone else except for Gopi and Urmila is supporting him.
So then she makes plan to send the members of the girl's family back to their home.
Jaggi gets really happy and then he continues to impress Gopi as he wants to marry her.
It will be interesting to see that what will Gopi do now.
Stay tuned for the upcoming twist.