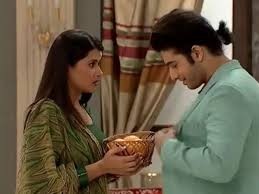 Kasam Tere Pyaar Ki: Raj wants Rishi to get married with Tanuja so he swaps the brides
In the upcoming episode, the show to witness high voltage drama as Raj makes Tanuja ready as a bride.
Raj wants Tanuja to get married with Rishi but he does not tells anyone about it.
He makes Tanuja ready as a bride and asks her to hide her face so that everyone thinks that she is Malika.
Rishi finally marries Tanuja
Just then Rano comes and Tanuja hides her face so Rano asks her not to hide her face.
Then Raj handles the situation and she is not able to see her face, Rishi will get married with Tanuja.
It will be interesting to see that what will happen when everyone will get to know that Rishi got married with Tanuja.
Stay tuned for the upcoming twist.