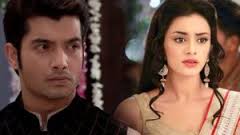 Kasam Tere Pyaar Ki: Tanuja tries to save Rishi (Ssharad Malhotra) from getting into wrong marriage with Malika (Smriti Khanna)

The upcoming episode of Kasam Tere Pyaar Ki will show that Rishi has ahreed to get married to Malika.

Rishi is doing this for mother Rano and to show others that he is out of Tanu's memories and moving forward.
While Rishi himself is tensed and doesn't want to marry Malika as he don't love her at all.

Malika has ahreed for this marriage as she wants Rishi and Bedi families money and fame.

Rishi-Tanuja's destiny bring them closer

Tanuja also knows that Rishi and Malika doesn't love each other but are marrying each other for selfish reasons.
Tanuja and Rishi's destiny makes them realize that they are made for each other and are meant to be together.

Let's see will Rishi listen to his heart or to his mind, will he get married to Malika.

Stay tuned for more exciting updates of the upcoming episodes.