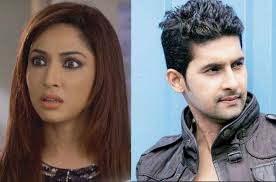 Jamai Raja: Satya (Ravi Dubey) turns Payal's (Mouli Ganguly) savior from electric shock

The upcoming episode of Jamai Raja will show high voltage drama where Satya is planning to expose Payal's truth.

Satya brings the inspector who has trapped him to expose Payal's truth before Mahi.
While Payal executes her escape plan and faints down pretending to be ill, Mahi gets worried for Payal.

Payal now plans to trap Satya in her plan by instigating Mahi that Satya is trying to kill her.

Satya fails Payal's plan

Payal endangers her life to instigate Mahi against Satya and takes up wrong medicine.
When Payal's this plan doesn't work she executes another plan where she tries to hurt herself with electric current.

Plans to put all blame on Satya but Satya comes on time takes electric current turning great in Mahi's eye.

Stay tuned for more exciting updates of the upcoming episodes.