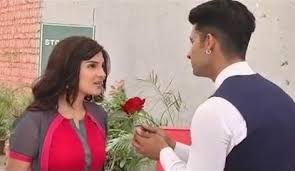 Jamai Raja: Satya (Ravi Dubey) saves Mahi (Shiny Doshi) from Payal's evil plans
The upcoming episode of Jamai Raja will show high voltage drama where Satya and Mahi are married now.
Mahi loves Satya but shows her anger that he replaced Dhawal in marriage mandap.
Satya is taking up Mahi's all accusations but is happy to save Mahi from Payal-Dhawal's evil plan.
Satya and Mahi continues their cute fight and also comes closer to each other amid this.
Satya's love for Mahi
Satya and Mahi shares some romantic moments with each other, Payal is irked seeing all this.
Payal attempts to hurt Mahi abd throws hot oil over her, Satya sees all this and vows to save Mahi.
Satya and Mahi comes closer to each other amid all this planning by Payal.
Stay tuned for more exciting updates of the upcoming episodes.